Wordpress - Disable xmlrpc.php through .htaccess
NOTE:
Wordpress version 5.0 and later would automatically have xmlrpc.php disabled, if you can, we recommend updating Wordpress to keep it up to date - please also note that if you are not familiar with updating Wordpress, we recommend seeking the advice of a website developer to assist you with this as there may be a chance that your website would not be compatible with the latest versions of Wordpress.
Step 1
- Login to your
cPanel
and go to
File Manager
, open up the folder which contains your Wordpress installation (usually in public_html).
Step 2
- Edit your
.htaccess
file - if it is not there, then you may need to enable hidden folders and files up the top right in File Manager.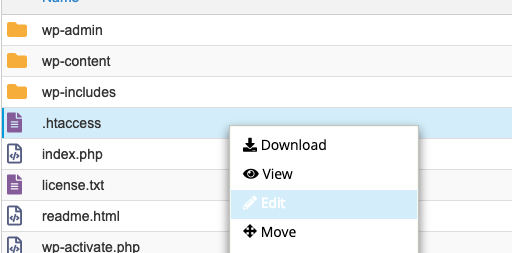 Step 3
- Insert the following code into the top of your .htaccess file and
Save
.
<Files xmlrpc.php>
order deny,allow
deny from all
</Files>