How can I enable or disable auto-renew for a domain?


Note:
Once a domain is registered, it cannot be cancelled like a normal service. However, you're able to stop it from being renewed automatically once the registration has expired.
Step 1 -
Log into your
Client Area
and click on
Domains.

Step 2 -
Click the
Options
icon then
Auto Renewal Status
.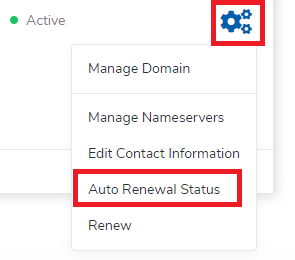 Step 3 -
Click on the
Auto Renewal Status
option to toggle it. It is set to
On
in the image below:

When Auto Renew is disabled
you will see this:

Information:
When Auto Renew is enabled, an invoice will automatically be generated for your domain at two weeks from expiry. You can then pay this invoice manually, or we will attempt to charge the Credit Card on file on the day the invoice is due. If the invoice is not paid, the domain will still expire as normal.
When Auto Renew is disabled, an invoice will not be automatically generated for your domain. You will still get automated emails from the registrar advising you that the domain is coming up for expiry, and you will still be able to manually renew the domain.