Update my Domain to use SpamExperts
On our Web Hosting and Reseller Hosting products, we use third party software called SpamExperts to perform outbound email filtering. SpamExperts is a complimentary service which helps prevent IP blacklisting, by filtering spam emails sent from our servers. On shared services, this ensures your service isn't impacted by anyone else doing something naughty.
If you are using Crucial's DNS (your domain name is pointing to our nameservers)
Your
Web Hosting
or
Reseller Hosting
service will already be using SpamExperts.

If you are not using Crucial's DNS
You will need to update your domain's DNS records to be able to send out email without any issues.
If this is not done, email servers that actively check Sender Policy Framework (SPF) records may reject your email.
You will need to ensure that the following DNS record is in effect.
You can add a TXT SPF record In cPanel's
Zone Editor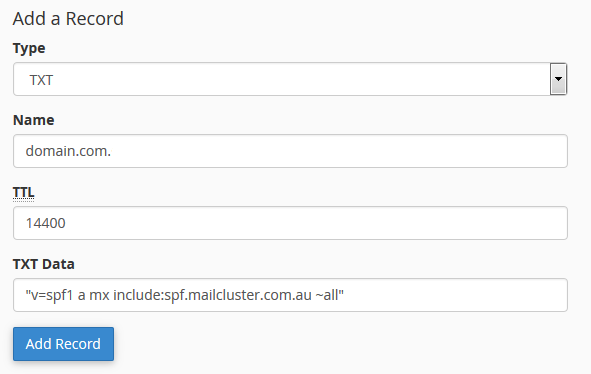 | | | | |
| --- | --- | --- | --- |
| Name | TTL | Type | TXT Data |
| domain.com | 14400 | TXT | "v=spf1 a mx include:spf.mailcluster.com.au ~all" |
If your DNS is being hosted with Crucial, we have already made the required change.
How to Update
To update the SPF records for your domain, you will need to login to the DNS management for whoever is hosting your DNS records.
You can check who is hosting your DNS by searching for your domain at the following websites. (Your DNS host is listed as the '
nameserver
' for your domain.)
Here is an example checking your domain with
IntoDNS

Here is an example of checking your domain with
MxToolbox

If your DNS
is not
being hosted with Crucial, as long as your current provider is using cPanel you can use
this guide
to make the changes.
If you are not sure if your DNS host is using cPanel, or if they aren't, we would recommend getting in contact with your DNS host for further instructions to update DNS.
You can validate and check SPF records
at this link
.