WARNING: Resetting the Root Password reset will reboot the server
You can reset the Root Password for your Linux VPS from the
My Account
area.
Step 1.
Login to '
My Account
'.
Step 2.
Select 'My Services'.

Step 3.
Select the Server you wish to reset the Root Password for.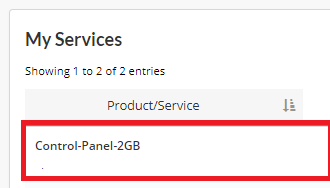 Step 4.
Click on 'Change Password'.

Step 5.
Select 'Change', enter a Password you wish to use.
Step 6.
Select 'Change' to update the Password.

Step 7.
You will be prompted to confirm the change
You have now updated your Root Password for your Linux VPS will be updated.