Change the Primary Domain Name on a cPanel Account
NOTE 1:
Doing this will delete any custom DNS (including MX) records, so make sure to go into cPanel > Zone Editor and MX Entry and take a screenshot of or copy the records to a text document. A second effect of this change is that all email accounts change to reflect the new domain, for example changing the primary domain from yourdomain.net.au to mydomain.net.au will change admin@yourdomain.net.au to admin@mydomain.net.au. You will need to update the Email Address and Username (for bothincoming and outgoing server) on any devices that email account is setup on.

NOTE 2:
This article is for cPanel/WHM VPS Server customers only. If you're on a
Web Hosting or Reseller hosting
plan,
submit a support ticket
so we can make this change for you.
Step 1
- Log in to WHM and Select the
List Accounts
option
Step 2
- Click on the
+
icon next to the domain you wish to change then click on the
Modify Account
button

Step 3
- Update the
Primary Domain
field to the new domain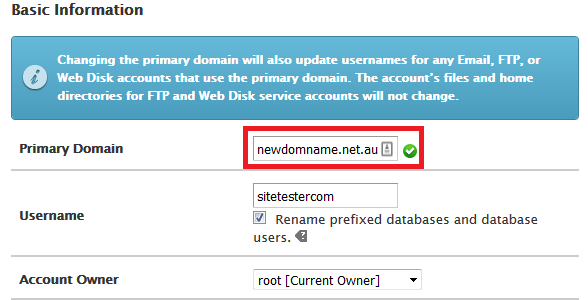 NOTE:
We highly recommend
NOT
changing the cPanel username. As it's tied to the database name, you may get database errors when doing this, and these errors relate to site code/config
Step 4
- Scroll down to the bottom of the screen and click
Modify

Thank you for your feedback on this article.