Generate a CSR from cPanel
Step 1
- Login to your cPanel account and go the SSL/TLS.

Step 2
- Click on
Generate, view, or delete SSL certificate signing requests
.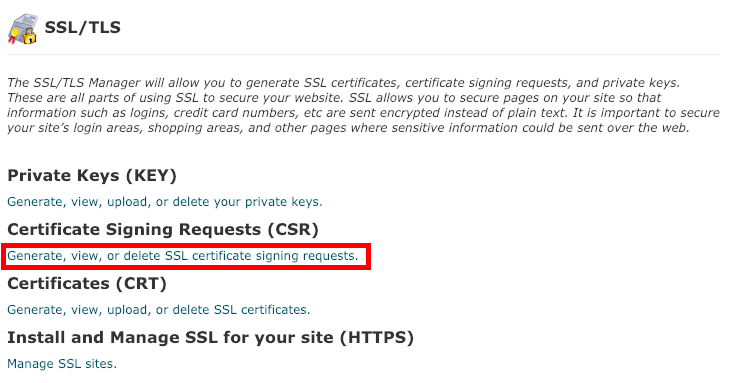 Step 3
- Leave the
Key Size
as
2,048 bits.
Ensure you provide accurate and truthful information as the details are reviewed by the Certificate Authority.
Domains - Provide the Fully Qualified Domain Names that you wish to secure. If you are using a wildcard certificate use *domain.com
City - City of the associated business or site owner.
State - State of the associated business / site owner.
Country - Country of associated business / site owner
Company / Organization Name - This should be your business or organisation name. If this is for a personal site, then just put your site's name for example.
Company Division - This is generally used to identify which company / business department, team is responsible. For example 'Technology'.
Email Address - Email contact for SSL configuration. Can be a distribution list.
Passphrase - This is an optional field, only use it if your Certificate Authority requires it.
Description - This is also an optional field, feel free to include a description of the SSL certificate.
Step 4
- After you are done filling in the information, click on
Generate
on the bottom to generate the CSR.
Step 5
- Copy the details within
Encoded Certificate Signing Request.