How to add external MX records in cPanel

If you're using another company to provide your email service, you can follow this guide to add their MX records in. This will let the internet know what server your email is hosted on.
NOTE:
DNS changes such as this are normally active within 4hrs, but they can in rare cases take up to 24hrs. We recommend making this change as soon as possible, or during your business's off peak times.
Step 1
-
Login to cPanel
and click on the
Zone Editor
tool.

Step 2
- Click on
Manage
for the appropriate domain

Now click
MX
so only the MX records are listed

Step 3
- If you see any old MX records, make sure to Delete them first

Now click on
Domains
on the top left

Step 4
- Click on
+ MX Record

Now enter your Priority, the Destination (sometimes named Record) and click
Add an MX Record

Repeat the process for all the MX records you have.
Step 5
- Click on the Home button in the top left of the screen
Now click on the
Email Routing
icon

Step 6
- (
1
) select your domain (
2
) select Remote Mail Exchanger (
3
) Click on Change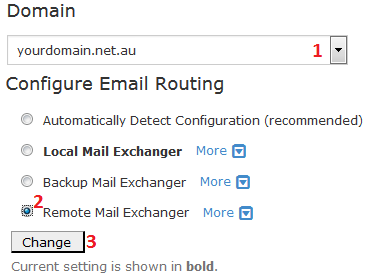 That's it! Note that MX records can take up to 4hrs to propagate and work properly. You can use a site like
https://www.whatsmydns.net
to check periodically and make sure they're live.